Real Hip Hop Forever Presents The Revolution Of Hip Hop Powered by Central Pieces ft Reks, K Rino, Mart, Joell Ortiz, Killah Priest, Pensmoke, Vigalantee, Emcee Composition, Kasual TheArtist, SkyLine, David Mnemonic, Fatlip The Pharcyde,Raw Doggz, Block McCloud and more FREE DOWNLOAD




Blu and VA super-producer Nottz have joined forces for the October 22nd release of their collaborative six track extended play release Gods In The Spirit. In promotion for the EP, the emcee/producer duo enveil the project's debut leak, "Boyz II Men" featuring Nitty Scott, MC. GITS includes guest features from ANTHM, Homeboy Sandman, Sene, Johaz, Aloe Blacc, Co$$, Versis & Scienze, Definite Mass and Rashad, and is now available for pre-order via iTunes for just $4.99.





Tracklist:

01. Boyz II Men (feat. Nitty Scott, MC)




02. Creme of the Crop (feat. Versis & Scienze)




03. Crooks in Castles (feat. ANTHM, Homeboy Sandman, Sene & Johaz)




04. End of the World (feat. Rashad)




05. God Shit (feat. Aloe Blacc, Co$$ & Definite Mass)




06. End of the World (feat. Nottz) [Remix]
Theo3 drops the second joint "That's Why I Came" from his upcoming ENTICEMENT FreEP with a powerful collaboration of Toronto and NYC legends. The Beatnuts assassin Psycho Les provides an in your face, bass heavy assault while turntable wizard Dj Grouch gets busy on the decks. Theo3 mixes punchlines with politics for a non stop, energy infused song.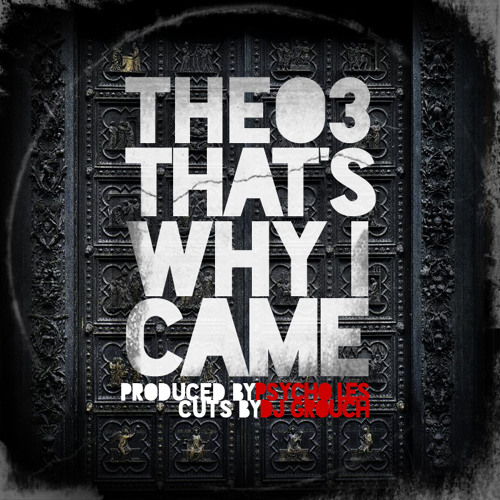 Purchase and Stream THEO3's extensive array of albums and music at
PEACE GREAT PEOPLE, IT IS AN HONOR TO ANNOUNCE THE RELEASE OF A NEW GUERRILLA REPUBLIK ALBUM! IN 2011 IT WAS THE LOVE AND SACRIFICE SERIES WHICH INCLUDED 9 COMPILATION ALBUMS. DUE TO IT'S SUCCESS, IT WAS ONLY A MATTER OF TIME FOR ANOTHER PROJECT OF IT'S KIND. GUERRILLA REPUBLIK PRESENTS: "THE INVISIBLE ARMY, RISE OF THE REALIST VOL 1" FOR DONATION ONLY,THIS ALBUM IS A COMPILATION OF MOSTLY EXCLUSIVE, NEVER BEFORE HEARD TRACKS FROM THE REALIST MC'S AND POETS OF OUR TIME. SEVERAL COLLABORATIONS BETWEEN GREP ARTIST WERE DONE SPECIALLY FOR THIS ALBUM. 6/13/13 IS ALSO THE 10TH ANNIVERSARY OF GUERRILLA REPUBLIK! WE ARE HUMBLED BY THE SUPPORT AND LOVE YOU HAVE GIVEN GREP OVER THIS DECADE. WE SALUTE YOU. THIS IS ONLY THE BEGINNING AND WE LOOK FORWARD TO MANY MORE DECADES OF BUILDING WITH OUR COMMUNITIES. ONLY THE REALIST FEEL THIS
Elephant Phinix & Noa one are the Gutter twinz..
This album is not fresh..
This album is stress..
Check it out!
Athens,
Greece 2013
Jehuniko's New Mixtape "Spiritual Warfare 4″ Is Finally Here. Spiritual Warfare 4 Is Hosted By Radio & Television Host JDubs, In Conjunction With Los Angeles' Latino 96.3 Fm And For The 1st Time Ever, Co-Signed By The Legendary Brown Berets and GUERRILLA REPUBLIK. So How Does One Garner Enough Attention To Do International Tours, Gain A Sponsorship With Puma, Have A Mixtape Hosted By A Major Los Angeles Radio Station, A Video On MTV Tres, No Record Deal Or Major Rapper Co-Sign And (2) Recent Features In Arguably The Biggest Publication In Hip Hop, Xxl? By Grinding Hard And Having An Original, Quality Sound. From Songs About Relationships, Destiny & Love Vs. Lust, Single Parenting and Street Life
"This N Nat" (ft. Timbo King)


The Dark (ft. Planet Asia)

The Pittsburgh, Pennsylvania duo of Crumb and JustTraxx better known as Dope Means are unveiling their debut LP "Government Funded" onto the world on 6-18-2013. The group is led by MC Crumb who joined the Army and was deployed to Iraq and recently returned to the States. Crumb used his paychecks from "Operation New Dawn 11-12" to fund this LP, which focuses on corruption, the politics of war and all aspects of life and their love of their home town Pittsburgh. Though not a political group, many of their songs focus on the current political climate and the effects they've had on their lives as both soldiers and civilians.

"Government Funded" features thirteen tracks and features guest appearances by Timbo King (Wu-Tang), Planet Asia, Reef the Lost Cauze and Ras Kass alongside production from C-Lance (JMT), Bronze Nazareth, Vherbal & Ziko. A&R'd by longtime Hip-Hop impresario M-Eighty (Wu-Tang / DPG / Undergods) fame, this LP represents the call of duty found within all mankind as delivered via raw lyricism and classic boom bap tales.
Check out the emtheories.com premiere of Styles P track "War Room" which features Chris Rivers (Baby Pun) & Vinnie Paz.
In total, Mic Crenshaw's music is not only a collective of juicy jams and skillful rhymes. This guy has made his mark on culture. Now it's time that he garners critical mass to spread his positivity to the world at large." - Billboard

"Superheroes" is a collaborative effort between Mic Crenshaw and Dead Prez, with production by Maestro of Detroit's D-12. The track speaks to the true everyday "Superheroes" that support their families, guiding them to help tackle the future problems facing the planet.

Mic Crenshaw, born in South Chicago, is one of the definitive Hip Hop Artists to grace the Northwest. Crenshaw spent his formative years battling the emergence of white supremacist gangs in the streets of Minneapolis. Now as a musician, he uses his music, time, and resources to help inspire others to take positive paths in their lives.

Crenshaw's non-profit; Global Fam has help to setup and support a computer center in Burundi, central Africa. Over the past six-years, the center has educated over 450 locals wth computer skills. Burundi shares a history and border with Rwanda, and is one of the fifth poorest countries in the world. The center is now striving, and is expanding both in size and services.

In 2009, Mic released his debut solo CD, "Thinking Out Loud", which spent 10 weeks in the top 10 on College Music Journal's (CMJ) National Radio Hip Hop Charts, peaking at number 4. Crenshaw's second-solo release, 'Under The Sun,' was released in the winter of 2010. The projects lead-single, "Yeah," peaked at #2 on CMJ's Hip Hop Charts.

Mic Crenshaw is currently recording music for his third solo-LP and "Superheroes" f/ Dead Prez will serve as the projects lead-single and he is also working on an upcoming Rock/Rap EP entitled "Bionic Metal" which will be released this summer.